YEPG hosts a number of events throughout the year, ranging from carbon bite nights, games evenings, and site visits. See what we are up to below. 
Spring Games hosted at UCL 2022
CIBSE YEPG hosted an evening of relaxed geeky technical challenges, with the aim of learning whilst having some fun together and meeting young professionals within the built environment.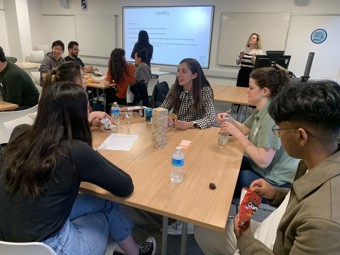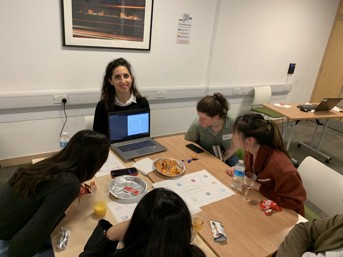 Thank you to UCL for hosting this event! 
Carbon Bite Night Series 2022
1. Utilisation of Digital Twin Technology to Enhance Building Performance  (31.03.22) - A discussion around how digital twins can be integrated effectively into both the design and operational phases to optimise a building's energy performance. The CPD included actual case studies as well as software demos to show why digital twins are critical to improving the energy efficiency of the built environment.
The topics included:
Using digital twin technology (IES ICL suite) to design and integrate key elements of a smart energy network for large-scale retrofits as part of energy performance contracts on university and public building estates.

Using digital twin technology during operational phases after large-scale retrofits to support measurement and verification, performance commissioning and controls optimisation. Therefore ensuring energy reduction targets are achieved.

Improving the design, delivery and operation of heating and cooling systems in both buildings and heat networks through hydraulic system optimisation
​Tunde Olaoye, Sector Director of Smart Energy Systems at SSE Energy Solutions
Chris Davis, UK Sales Manager at Hysopt
Brian Vanheel, Sales Engineer at Hysopt
The slides for the event are available here: Hysopt SSE
Survey: What does zero mean?
The built environment in the UK and around the world is increasingly committed to achieving Net Zero buildings. But what does Net Zero mean?  To deliver real progress, we need to agree on what Net Zero means, in practice and in the detail.
As a step towards this, and building on the work by the UKGBC, in summer 2021 LETI and the Whole Life Carbon Network, supported by the RIBA, produced a set of definitions www.leti.london/carbonalignment
CIBSE and LETI worked together to produce a set of FAQs on the definitions, and ran a survey about it, to make sure the definitions are applied consistently in as many real-life situations are possible, and that they deliver the right outcomes.
They held an event on 8 November to hear people's views on key questions on the meaning of Net Zero. You can watch a summary of the event here: 
The survey closed on 21 December 2021

Carbon Bite Night Series 2021
1. Humidity control on Indoor spaces (27.10.21) - Given the recent pandemic, more attention has been shifted toward ventilation practices. However, humidity control in the built environment continues at times to be neglected. The three speakers discuss active and passive measures available, and the following topics: 
How can you save energy & cost?
How does Humidity affects indoor air quality, comfort & the spread of COVID-19?
Available technologies for Humidity control?
​Rossella Perniola + Dave Marshall-George + David Black
The slides for the event are available here: Humidity control on Indoor spaces

This was YEPG's first in-person event since the pandemic. Thanks to WSP for hosting!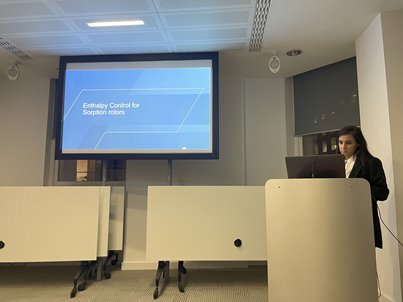 2. Quality Assurance of Heat Networks (04.08.2021) - The recent update to CP1: Heat Network Code of Practice (CP1 2020) places a much larger focus on verification of heat network performance. To meet these requirements and support the decarbonisation of the sector, it is clear that the role of quality assurance will become more important during the design and delivery of new schemes. This discussion will aim to highlight the importance of heat networks quality assurance and demonstrate quality assurance processes. Our speakers will also discuss the impact of quality assurance of heat networks from a housing developer and mechanical contractor's perspective
Tom Burton + Paul Craig + Ivan Grahn + Ricky Stevens
The slides for the event are available here: CBN2-Quality-Assurance-of-Heat-Networks
1. Demand side response (17.05.2021) - Given that we are moving towards an electricity-powered future to achieve Net Zero targets, can our current grids accommodate the emerging demand in electricity as well as the anticipated unpredictability from increased renewable generation? With the increased uptake of storage solutions as well as onsite generation, how can these be utilised and integrated with the grid to decrease electricity bills and better manage peak electrical loads? Speakers at this carbon bite night discuss the topics above. 
Sam Do + David Watkin 
The slides for the event are available here: Demand-side response

Carbon Bite Night Series 2020
1. The role of 5DH in the UK's path to net zero (30.04.2020) - 5th generation district heating has gained a lot of attention in the UK industry recently, with improvements in technology and updates to key regulations driving the use of heat pumps. However, design philosophy and implementation of this technology remain unknown to many, as few 5DH networks are currently operational in the UK.
Bruce Geldard + Tom Naughton + Chris Davidson
Watch the video here:
The slides for the event are available here: YEPG Carbon Bite The Role of 5DH in the UK's Path to Net Zero

2. Taking commercial offices to net zero carbon (01.05.2020) - The release of the LETI Climate Emergency Design Guide in January and the UK Green Building Council targets for Commercial Offices in April have put Net Zero Carbon front of place in commercial office design. But how do we actually go about delivering Net Zero Carbon commercial office buildings? In this event speakers discussed how to achieve Net Zero Carbon in design, operation, and retrofit of commercial assets.
Jennifer Elias + Khasha Mohammadian + Oliver Lockhart
Watch the video here:


3. The impact of DHW temperatures on energy performance (12.08.2020) - Domestic hot water (DHW) temperatures have long been a discussion point in the industry, due to the impact of this set point on resident comfort, energy performance and public health. As the industry focus moves towards electrically generated heat, the impact of DHW temperatures on energy performance becomes increasingly important, and there is increasing momentum to reduce these temperatures. In collaboration with the Society for Public Health Engineers, the three speakers discuss their experiences and expertise on the factors that influence DHW temperatures and current research that will help to shape the conversation going forwards.
Steve Vaughan + Jonathan Gaunt + Andrew Mackay
Watch the video here:

The slides for the event are available here: The impact of DHW temperatures on energy performance

4. Design to mitigate overheating in the built environment (02.12.2020) 
 
CIBSE YEPG & EPG Joint Event
Net Zero Carbon: The Short and Long Term (23.01.2019)
Having declared a Climate Change emergency what do we do now? The Committee for Climate Change suggested that all new housing should be off the gas grid by 2025. If we wait until 2025 does that simply make the net zero by 2050 all the more difficult? What practical steps should be taken in the short term and what will happen in the long term? The Energy Performance Group has assembled a top team of speakers including an Architect, an Engineer and a Developer to consider what concrete steps can be taken in the short term to address this issue. The Young Energy Performance Group has done something similar but focused on longer-term issues.
 
Carbon Bite Night Series 2019
1. Carbon Bite Night 2019 (22.05.2019) - We have discussed the GLA updates on carbon factors and their impact on the design of new residential developments.

2. The challenges and the future of district heating in the UK (03.07.2019) - Our speakers have drawn on their experience in the heat network industry and spoken about the challenges that they have faced. 

3. The future of heat pumps (07.06.2019) - With the carbon factor related to electricity dropping considerably, lots of new developments are considering heat pumps as a key aspect of the energy strategy. For this reason, we have explored different solutions for heating and hot water generation, focusing the conversation on energy efficiency and some critical aspects of the technologies presented.