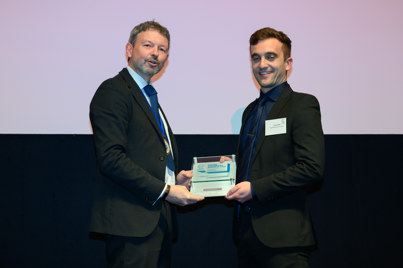 I'm Louis Kimber, and I recently won the Level 5-7 CIBSE Apprentice of the Year award.
Why did you enter the awards?
Members of the management team at my place of work recommended that I go for the award as a way of recognising the hard work I have put in and progress I have made as an apprentice in the industry. I also thought the whole experience would be of huge benefit in terms of exposing myself to the industry and meeting a wider network of like minded people who share my passion for building services.
What new and exciting projects are you working on?
I am lucky to work with Atkins in the sense I have had the opportunity to work on a wide variety of projects, including the education, blue lights, healthcare, and defence sectors. Recently, I led the mechanical and public health design for a stage 4a office fit out for a secure facility in Preston. I have now moved on to assist in the mechanical design and Passive House Planning Package (PHPP) calculation assessment for a Passivhause housing scheme in Cardiff, Wales.
What exciting opportunities have you received since winning the YEAs?
I think the greatest benefit has been exposure to the wider business and in the industry as a whole. There have been a number of exciting opportunities sent my way as a result of this exposure; Most notably, I have been asked to take part in an upcoming CIBSE panel that has a focus on the YEAs and apprenticeships.
Why should you enter?
It does not make sense not to enter! Even if you don't make it to the shortlist, the whole experience of presenting and answering challenging questions as part of the submission process has been invaluable and has had a massively positive impact on my confidence as an engineer. Then if you do find your self shortlisted or even a winner of an award, it will become a massive boost to your CV which can only set you up for more great opportunities in the future.
Do you have any building services icons that you would like to celebrate?
I have taken a huge interest in the recently delivered St Sidwell's Point leisure centre in Exeter. I think the building is an incredible achievement of engineering, being the first Passivhaus standard leisure centre in the UK. I have high praise for all the work Exeter City council are doing with regards to promoting the Passivhaus standard and working towards achieving the UKs net zero targets.
What inspires you as an early career engineer?
I don't think I could have joined the building services industry at a better time! The impact I believe us as the younger generation of engineers are going to have on achieving our net zero future is going to be hugely significant. It is also inspiring to see the efforts being made across the industry and it is making the future of building services look incredibly exciting.
How do you think your experience in entering and being shortlisted for the YEAs has help to boost your confidence and development as an early career engineer?
The whole process has had a positive impact on my confidence as both a person and an engineer. The presentation involved in the submission process helped improve my ability to present, which is something that is becoming more of a requirement in the projects I have been working on. Then there was the awards evening itself which can initially appear overwhelming but has proved to be of great benefit in terms of improving my confidence to have professional conversations with other engineers. Essentially, the award has given me self recognition that I have made some good progress over my apprenticeship and that my hard work is being recognised.
What drew you to a career in engineering?
I have always had a keen interest in all branches of science and mathematics. I also had the added interest in sustainability whilst studying geography at A-levels. I felt engineering was the obvious choice as a result of my academic interests, but in truth, I ended up initially studying chemistry at Cardiff University! I then opted for a career change and came back to engineering, finding building services to be the best suited to my interests and passions.
How do you engage others, friends, or family in the work that you do?
My family are very supportive of the work I do and have a great appreciation for the importance of building services in our net zero future. In terms of engaging others, I have recently joined the CIBSE YEN group for the South West where we are currently looking at implementing a mentoring programme for young engineers and students in the hope to improve engagement with the industry and grow their confidence.
What would you like to do to inspire the next years applicants?
I would just emphasise the points I have already made, it's a process that will only benefit your career and give you the confidence to put yourself out there more. I would also like to offer my support and guidance to anyone thinking of applying next year, please do get in touch through LinkedIn.