Kevin Mitchell CEng FCIBSE - President 2022/23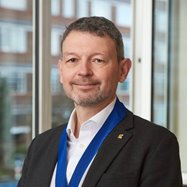 Kevin Mitchell, CIBSE President highlighted the need to inspire and support the next generation of engineers to help society solve the big technical and scientific challenges of today and tomorrow. Watch Kevin's full Presidential Address below.
As part of CIBSE's 125 Anniversary celebrations CIBSE President Kevin Mitchell has launched 5 challenges to encourage action, communication and collaboration, inspiring those who are new to our industry, as well as raising our profile more widely and inspiring people to join us from a wide range of backgrounds to ensure our industry reflects the communities we serve.
Find out more

About Kevin Mitchell
Kevin is the Global Practice Leader for Building Services Engineering at Mott MacDonald, and President of CIBSE. Over a period of 30 years, Kevin has worked as a Consulting Engineer in various sectors in the UK, North America, the Middle East, and Asia, gaining extensive experience of how to contribute to the design of buildings that work for the people that they serve. Understanding the links that exist between thermal comfort and air quality, and wellbeing and productivity is of particular interest to Kevin and this interest has had a significant influence on his career.
 
At Mott MacDonald, Kevin provides overall professional and technical excellence leadership to the Building Services practice with team members based around the globe.
 
A passionate advocate of the development of innovative building services engineering solutions, Kevin has had an active involvement with CIBSE throughout his career and has had a particularly close involvement with the CIBSE ASHRAE group, including the young engineers' awards since their inception in 1996.
 
Holding an Honours degree in Mechanical Engineering, a Masters in Energy Engineering, and an MBA, Kevin Mitchell is the Mott MacDonald Practice Leader for Building Services Engineering, leading the activities of the Practice throughout the UK and Europe.
 
Kevin started his career with Hoare Lea where, in addition to being involved with the design of building services systems in various sectors, he also spent four years in research and development.
 
Following his interest in projects that rely heavily on building services engineering and interdisciplinary design, Kevin joined AMEC Design and Management in 1998 and, for the next ten years, worked in multi-disciplinary teams in both the UK and in Canada on projects in various sectors including healthcare, scientific, commercial office, large scale retail, education, and transportation hubs.
 
Always keen to travel and experience different cultures, Kevin returned to the UK in 2016 following eight years in the Middle East where he was a Partner of Buro Happold Engineering with responsibility for the UAE business. Living and working in the UAE, Kevin gained experience of leading multidisciplinary teams responsible for the delivery of engineering services on large scale projects in extreme environments.

Alongside work commitments, Kevin enjoys the practical aspects of DIY, watching rugby, and takes any available opportunity to spend time with his wife and two children either at home, or exploring the countryside.