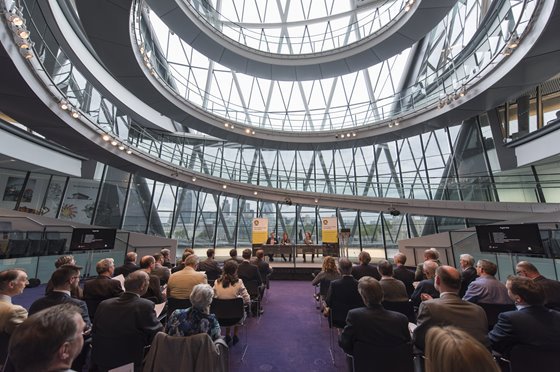 Photo: Michael Eleftheriades
The Society of Light and Lighting (SLL) Trotter Paterson Lecture 2020 was delivered by acclaimed Lighting Designer, Paule Constable. 

Paule's lecture, The Art of Telling Stories with Light, explored her award-winning work, motivations, and experience as a Lighting Designer. 

Watch the 2020 SLL Trotter Paterson Lecture below:

Please note, Paule's presentation begins with audio only, with slides appearing from 14:55. 
Due to current circumstances relating to COVID-19, the SLL made the decision to hold the Trotter Paterson Lecture online this year. It is the first time the event has been held virtually.

Paule's experience in theatre and stage lighting followed on from previous speakers including Lighting Researcher, Dr Peter Boyce and Neurobiologist, Sir Colin Blakemore who have presented the SLL Trotter Paterson Lectures in recent years.

Find out more about Paule Constable and her work

The Trotter Paterson Lecture was created in 1951 as a biennial event to commemorate two distinguished past Presidents of the Illuminating Engineering Society, Alexander Trotter (President 1917-1920) and Sir Clifford Paterson (1928). Both were founding members of the SLL in 1909 when Paterson was in charge of the Electrotechnical and Photometrical Department of the National Physical Laboratory and Trotter was electrical adviser to the Board of Trade.
 
Trotter was the pioneer of illuminating engineering and is credited with starting illuminating engineering as we understand it today with his paper The Distribution and Measurement of Illumination, read at the Institution of Civil Engineers in 1892. He retired in 1920.
 
The International Photometric Commission, founded in 1900, was reconstituted in 1913 as the International Commission on Illumination (CIE). Paterson was appointed honorary secretary of the new body, a post he held with only one break until 1948. The break was the period for which he was President from 1928 to 1931 and culminated with the CIE Congress held in Great Britain when floodlighting was demonstrated on a scale never before attempted.

In recent years, speakers and topics have included the following:
- Peter Boyce, Ph.D CEng, MCIBSE, Hon. FSLL, Hon. FIESNA, Professor Emeritus at Rensselaer Polytechnic Institute - Lighting in Flux 
View full presentation
- Sir Colin Blakemore, FRS, FMedSci, FRSB, FBPhS, Professor of Neuroscience and Philosophy at the University of London - Vision Impossible 
- Mark Rae Ph.D, Professor of Architecture and Cognitive Sciences at the Lighting Research Centre (LRC) at Rensselaer Polytechnic Institute - What Ever Happened to Visual Performance? 
- John Barbur Ph.D, Professor of Optics and Visual Science and Director of the Applied Vision Research Centre at City University London - Mesopic Vision
- Tommy Govén, Senior Designer and Advisor in Light and Lighting, Tommy Govén Consultancy - New Trends in Lighting
- Peter Boyce Ph.D, Ph.D CEng, MCIBSE, Hon. FSLL, Hon. FIESNA - Education, Motivation and Legislation: Three Keys to the Future of Lighting
- Bernie Davis, Television Lighting Director
- Dr Robert William Gainer Hunt O.B.E
- Bryson Gore Ph.D