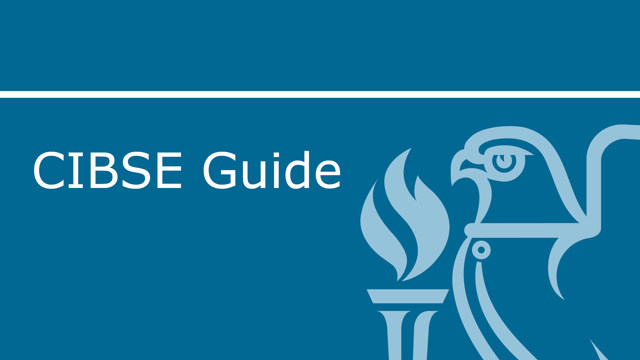 Note: A revision of Guide M is currently underway, and publication is expected in 2023. The 2014 edition is now available in PDF only.
Supplementary Files:
Appendix 12.A1 Indicative economic life expectancy tables
Appendix 13.A1 Maintenance audit checklist (blank)
Appendix to Chapter 15 Statutory compliance legislation and guidance
Guide M is written for designers, maintainers, building owners/ operators and facilities managers. Learn more about this edition of Guide M by watching highlights from the launch event held on 19 November 2014. You can also listen to a full audio recording of the event (with slides) here.
Building services engineers provide the internal environmental conditions that enable business processes to function at an optimum level while providing a safe, comfortable environment for occupants to achieve their maximum performance potential. Effective maintenance and operation is a key factor in ensuring this continues for the life of the building.
This guidance is a continuation of work by the CIBSE Maintenance Task Group, Chaired by Joanna Harris, and is intended for the benefit of all those involved in the operation and maintenance of engineering services. It is an update of the 2008 Guide and aims to provide best practice for those who have responsibility for the management and maintenance of the engineering services in a building. It also aims to inform those who design and construct buildings and raise awareness of the implications their decisions have on enabling effective management and maintenance Principal areas of revision relate to legislation changes and changes in best practice.
Our industry is concentrating on performance outcomes and closing the gap between design and operation. Working together we can help our clients by managing their expectations and maximising impact from their annual spends on maintenance and management of buildings.
The Task Group has tried to avoid duplicating information that is available elsewhere, and references to useful documentation is provided. The Guide identifies current good practice and addresses topics of particular interest and relevance to those involved at all levels in engineering services maintenance. This includes designers, manufacturers, installers, maintainers, building owners, occupiers and operators, professional advisors and specialist providers. It is not expected that the reader will read the publication from cover to cover; rather that it will be used for reference and guidance as needs arise.
This document is intended to bring maintenance into a sharper focus by helping building and property operators become more aware of their responsibilities and duties. It will also help services designers to appreciate their role in providing installations that are safe, economic to maintain and operate, and capable of giving satisfactory performance over their full lifespan.
During the process of updating this Guide the Task Group collaborated with other publishers of best practice guidance including RICS (Royal Institution of Chartered Surveyors), B&ES (Building and Engineering Services Association) and BSRIA Ltd to agree a structure for presenting assets (see Figure 1.1, which provides an overview of how the documents span the life cycle of a building.). This has resulted in the economic life data provided in Chapter 12 being structured by system and elements, being numbered to match NRM3 and providing maintenance task references to SFG20. Feedback on the usefulness of this would be most welcome.
With the recent developments around Building Information Modelling (BIM) it is the management and maintenance teams that can benefit the most from the increase in useful information generated in a BIM project. We encourage you to look at the principles of BIM and introduce them in your existing buildings as you repair and replace assets, which will enable you to generate a wealth of information that will support the long-term management of your buildings.
This edition of Guide M supersedes the previous 2008 edition.
Nick Mead, then CIBSE President Elect said, "CIBSE's Guide M is essential reading for everyone involved in designing, installing or operating building services. It is a comprehensive guide to good practice in the operation and maintenance of buildings." See more here.
Table of Contents
1 Introduction
1.1 Scope and structure 
2 Guidance for building services designers
2.1 Designer responsibilities
2.2 Advising and guiding the client
2.3 Client requirements
2.4 Installation and maintainability
2.5 Design parameters
2.6 First-year operation and maintenance requirements
Appendix 2.A1: Design guide to maintainable buildings
3 Maintenance strategy and techniques
3.1 Client requirements and other considerations
3.2 Maintenance techniques
3.3 Service delivery options
3.4 Developing and implementing an appropriate strategy
3.5 Selecting the appropriate delivery model
3.6 Implementation and performance management/improvement
4 Maintenance contracts
4.1 Procurement methods and procedures
4.2 Contract selection
4.3 Tender and contract formation
4.4 Documentation
4.5 Contract mobilisation
5 Energy efficiency and maintenance
5.1 Energy strategy and policy
5.2 Energy management systems (EnMS)
5.3 Gaining an overview
5.4 Analysing energy demand
5.5 Legislation and codes of practice in UK
5.6 Investing in energy efficiency
5.7 The energy-efficient brief
5.8 Renewables
5.9 Fuel selection
5.10 Combined heat and power (CHP)
5.11 Metering
5.12 Lighting
5.13 Heating and hot water
5.14 Electrical power
5.15 Controls
5.16 Refrigeration systems
5.17 Justification of energy projects
Appendix 5.A1: Energy benchmark data
6 Controls for building services
6.1 Purpose of controls
6.2 Maintenance requirements
6.3 Building management systems
6.4 Upgrading control systems
6.5 Need for training
7 Commissioning and testing
7.1 Commissioning management
7.2 Summary of commissioning requirements
7.3 Commissioning manager and commissioning specialist responsibilities
7.4 Documentation
7.5 Designer's checklist
7.6 System characteristics
7.7 Post completion testing
7.8 Continuous commissioning
7.9 Controls and building management systems
7.10 Decommissioning and mothballing
8 Handover procedures
8.1 Preparation
8.2 Sectional completion and beneficial occupation
8.3 Inspections
8.4 User training
8.5 Occupant training
8.6 Tools and spares
8.7 Handover information
8.8 Equipment warranties
8.9 Defects liability
9 Operating and maintenance documentation
9.1 O&M manual content
9.2 Manufacturer literature
9.3 Updating
9.4 Preparation
9.5 Health and safety file
9.6 Building user guides
9.7 BIM information
9.8 Computer-based information systems
9.9 Maintenance management systems
10 Operational risk assessment and management procedures
10.1 Assessing the risks
10.2 Business risks
10.3 O&M risks
10.4 Disposal risks
Appendix 10.A1: Overall risk checklist
Appendix 10.A2: Operational risk checklist
11 Operation and maintenance costs
11.1 O&M cost data
11.2 Cost categories
11.3 Cost data attributes
11.4 Benchmarking
11.5 Levels of information
11.6 Utilisation of labour
11.7 Backlog maintenance
12 Economic life factors and end of economic life
12.1 Background: what are economic factors and when are they used?
12.2 Predicted future life expectancy of assets and components
12.3 Variation factors
12.4 Applications
12.5 Other economic life and financial considerations
Appendix 12.A1: Indicative economic life expectancy
13 Maintenance audits
13.1 Audit document
13.2 Audit details
13.3 Audit scoring system
13.4 Recording comments
13.5 Audit procedure
14 Condition surveys
14.1 Levels and frequency of survey
14.2 Non-intrusive testing
14.3 Consistency of information
14.4 Priority grading
14.5 Condition grading
14.6 Data collection
14.7 Updating information
15 Legislation and compliance
15.1 Legislation
15.2 Requirements for inspection and testing
16 Health and comfort
16.1 Indoor air quality
16.2 Thermal comfort influences
16.3 Air distribution systems
16.4 Comfort during modifications to existing buildings
16.5 Recommended assessment schedules
17 Training
17.1 Management
17.2 Competency
17.3 Training policy statement
17.4 Identification of training needs
17.5 Training plan
17.6 Means of provision
17.7 Certification
17.8 Evaluation
17.9 Records
Principal author: Joanna Harris (BSRIA)
Contributors: Neil Ambler (Watson & Sole); John Armstrong (Armville Consulting); Neil Earnshaw (Constructing Solutions); Rob Farman (Abacus FM Engineering Consultancy); Stephen Gathergood (G4S Integrated Services); Andrew Green (F&G); Paddy Hastings (Norland Managed Services); Steve Hunter (Kaizenge); Paul Kee (Hurley Palmer Flatt); Andrew Martin (Lloyd's Register); Kate McCormick (SPIE UK); Geoff Prudence; Dave Robinson (Babcock); Andrew Saville (Armville Consulting); David Smith (Datara)
CIBSE Maintenance Task Group and Steering Committee: Neil Ambler (Watson & Sole); John Armstrong (Armville Consulting); Javier Carnero (MITIE); Graeme Craig (B&ES); Neil Earnshaw (Constructing Solutions); Rob Farman (Abacus FM Engineering Consultancy); Steve Gathergood (G4S Integrated Services); Joanna Harris (BSRIA, Chair); Paddy Hastings (Norland Managed Services); Steve Hunter (Kaizenge); Paul Kee (Hurley Palmer Flatt); Gareth Keller (B&ES); Andrew Martin (Lloyd's Register); Kate McCormick (SPIE UK); Geoff Prudence; Dave Robinson (Babcock); Andrew Saville (Armville Consulting); David Smith (Datara)
CIBSE Referees: John Armstrong; Mike Malina; Phil Taylor