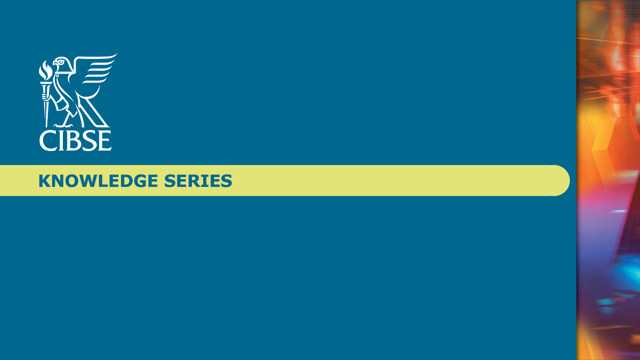 With increased awareness of the importance of energy efficiency in buildings, not only to reduce carbon emissions but also to meet regulatory and planning requirements, refurbishment of building services is currently an important subject.
Whilst we build 1% of the stock new each year, 99% of the stock is already with us - whenever a building is refurbished it is an opportunity for building services engineers to add value and reduce energy costs and carbon emissions through energy efficient measures. The introduction of energy performance certificates (EPCs) may result in tenants demanding better energy performance from their buildings and this publication will show ways of achieving this.
This is a joint CIBSE and BSRIA publication that will provide guidance to building services engineers who are tasked with upgrading existing services. It will help building occupiers and managers to understand the minor refurbishment steps that can be taken to improve the energy efficiency of their building services. Members from both organisations are involved in operating buildings and refurbishment presents them with a large challenge, as well as a significant opportunity.
This publication brings together the wide range of sources of information available from both CIBSE and BSRIA to demonstrate to building services engineers the refurbishment options that are available to them.
Retrofit for energy efficiency should not be undertaken in isolation from the other drivers and considerations relating to building refurbishment. Examples include occupancy comfort, health and productivity, future flexibility and adaptability of services and maintenance and upkeep issues.
This Knowledge Series publication is intended to provide a concise overview of building services refurbishment with a focus on improving energy efficiency. It is not intended to give an in-depth review of the various refurbishment issues and options, rather it is an introduction to the various topics along with sources of in-depth guidance.
Note that refurbishment options outlined in this publication include 'lower cost' and 'higher cost' options. In practice, what constitutes lower and higher cost will be highly dependent on the specific building, its existing building services and desired levels of improvement.  Further information on all of the aspects covered in this publication can be found in other existing CIBSE and BSRIA publications, and these are indicated throughout.
Contents:
 
Introduction

Why refurbish?

Refurbishment challenges

Refurbishment assessment procedure

Pre-refurbishment energy checks

Lower cost refurbishment options

Higher cost refurbishment options

Low or zero carbon technologies

Commissioning/recommissioning

Handover
Appendix A: Refurbishment procedures and options flow chart  

References

Acknowledgements
Principal author: Kevin Pennycook (BSRIA)