Full details and download/purchase
View Executive Summary below
Watch the webinar below
Consideration of building users' health and comfort has always been fundamental to the role of building services engineers. In recent years, trends including rising life expectancy, a rise in chronic non-communicable diseases and significant advances in knowledge and solutions have highlighted the significant role of the built environment as part of public health prevention approaches to public health prevention and improving our wellbeing, comfort and cognitive performance.

This has prompted a revision of Technical Memorandum 40, first published in 2006.
TM40 Executive Summary
This executive summary was produced prior to the launch of TM40 in order to provide a summary of the key topics covered within the publication.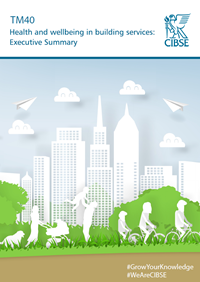 TM40 Webinar - 21 November 2019
Watch this webinar to hear a thorough overview of the new publication from the lead author Julie Godefroy, Technical Manager, CIBSE