Mike has had a long association with the Building Services Industry and an outstanding record of service within two of its Regions.
Mike started an apprenticeship as a draftsman in heavy engineering working on power stations around the world. Following working with Derby County Council and then the East Anglian Regional Hospital Board, Mike moved to Nottingham and joined the Nottinghamshire County Council. It was during this time that Mike became involved with the IHVE which was later to become CIBSE.
He was an active member of the East Midlands Chapter of the CIBSE, serving both as Vice Chairman and then as Chairman from 1987 till 1989.
Mike's next chapter started when he and Cathy moved to Australia in the year 2000 as retirees and Mike was soon involved with CIBSE and SBSE in Western Australia.
The ANZ Committee approached Mike in 2004 to help out with the WA Chapter and to take on the role as it's new Chair. Mike rose to the challenge and even though at the time he didn't have a long history with the Chapter or a deep network, he built the WA Chapter to be one of the strongest and most vibrant within the Australia & New Zealand Region.  Besides the increase in membership that followed the results of his leadership were probably best exemplified by the annual Christmas Luncheon which year after year attracted the who's who of the WA Building Services Industry as well as politicians and academics.
As if these efforts were not enough Mike also volunteered as the ANZ Regional Secretary, a position which he held for many years.
As a measure of appreciation, Mike received a CIBSE Bronze Medal from in 2009 and then a CIBSE Silver Medal in 2014, (the only recipient to date in WA), and was inducted into the ARBS Hall of Fame in 2020.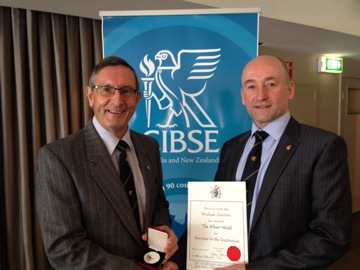 (Mike Garton, left, receiving the CIBSE Silver Medal from CIBSE President at the time, Peter Kinsella)
Outside of Building Services, Mike has been involved with diverse interests ranging from being an Assistant Scout Master to being a qualified FA referee. As a member of a local Rotary Club, Mike was intimately involved in the raising of funds for the relocation and building of a fishermen's village in Sri Lanka, comprising of 44 homes and a Community/Medical Centre, which had been wiped out by the Boxing Day tsunami in 2004.
Our community gains a huge amount of strength though the efforts of its many volunteers, who willingly take on this work and carry it out diligently day after day, year after year. Mike Garton has been an outstanding contributor; a proud CIBSE Member that has gone well beyond the call of duty, we are truly grateful for all his hard work over the years, and he will be very sadly missed.
- Peter Kinsella FCIBSE on behalf of the CIBSE ANZ Committee.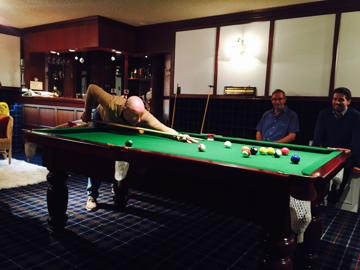 (from left: Peter Kinsella, Mike Garton, Matthew Klintfalt)