In association with Light Night Leeds 23, members of the Society for Light and Lighting (SLL) are lighting Leeds Minster, in the style of Pockets of Light.
The SLL hopes that those in the area or visiting Leeds can look at the installations around the city and spend some time at Leeds Minster.
Pockets of Light was an initiative of former SLL President and long standing, respected member of the Society, Liz Peck, amongst others. It involves SLL members visiting schools, delivering lighting workshops and encouraging pupils and students to design the lighting for a particular building or area. Then the SLL member volunteers realise their ideas and install the lighting on their behalf.
Lighting workshops were delivered to pupils at Alder Tree Primary (Leeds) and students at Leeds West Academy. The pupils and students then sketched lighting designs for Leeds Minster in the themes of cultural diversity, religion, music and the environment. The winning designs will be used to light Leeds Minster and become one of the lighting installations on display at Light Night Leeds.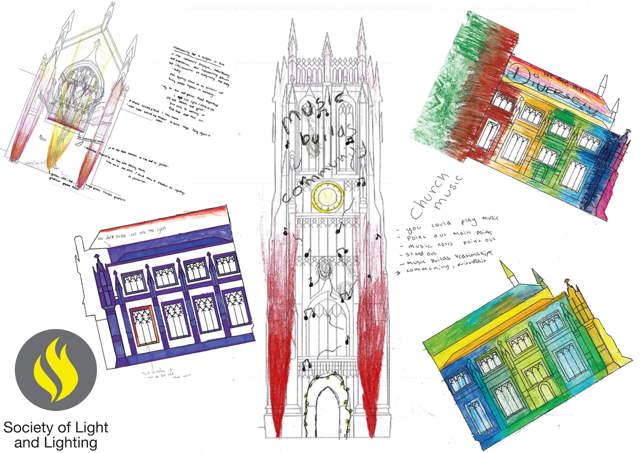 Light Night Leeds takes place 12th & 13th October and many buildings in Leeds City Centre will be illuminated, including the Minster. Find out more. In the spirit of Night of Heritage Light and Liz's ability to mobilise volunteers, the industry has once again answered the call and are supplying equipment at no charge in Liz's memory.
Thanks go to the SLL member volunteers, who have given so much of their own time to this project.
Thanks are also given to the companies that generously gave their luminaires, equipment and time to this event: Arup, Atrium, F-Mark, Gamma Illumination, Griven, iGuzzini, Kemps Architectural Lighting Ltd, Light Projects, LITE ltd, Martin Lighting, MaxiLED Lighting, Sigma, StudioTech, Tryka and We-ef Lighting. This would not be possible without the generosity, teamwork and collaboration of them all.