Learn more about the risks posed by poor ventilation in this new interactive infographic from the National Engineering Policy Centre.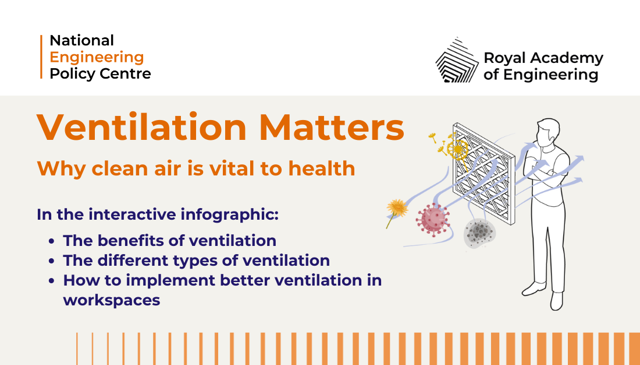 This work builds on the two previous Infection Resilient Environment reports which highlighted how built environments can have implications for public health.
In March 2020, the Academy and its partners in the National Engineering Policy Centre (NEPC) were commissioned by the Government Chief Scientific Adviser Sir Patrick Vallance FRS FMedSci to identify the interventions needed in the UK's built environment and transport systems to reduce infection transmission.
The Academy in partnership with the Chartered Institution of Building Services Engineers (CIBSE) have undertaken a two-phase programme of work on infection resilient environments. The programme set out to understand how to overcome the barriers to infection resilience.
The infographic provides an overview of the vital role of ventilation for building users, covering key points such as:
Reducing risk of respiratory illness and allergic reactions
Reduced risk of spreading and catching diseases, such as flu and COVID-19
Improved mental health
It covers the benefits of improved ventilation for employers, regarding employee health and wellbeing; guidance on how to spot signs of poor ventilation; links to key studies; information on types of ventilation and building types; and guidance on what can be done to manage ventilation.
Take a look via https://explainers.raeng.org.uk/ventilation-matters