We recently spoke with the 2022 Graduate of the Year, Vanessa Luvio, about her experience with the awards, and what opportunities has opened up for her. 
Vanessa is a Graduate Mechanical Engineer with Northrop Consulting Engineers and graduated with Honours from the University of New South Wales with a Bachelor of Mechanical Engineering. Drawn to her role at Northrop because of her interest in thermodynamics and fluid mechanics, Vanessa is enjoying her career journey. She is learning under mentorship and relishes opportunities to work on challenging building designs that test her problem-solving skills.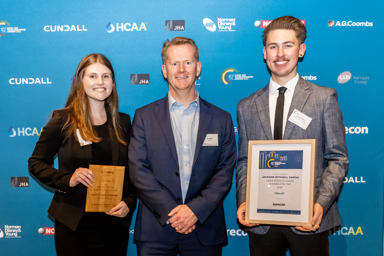 At the awards ceremony were you able to have any conversations or make any great connections in the networking area after the event?
The awards ceremony was a great opportunity to network with engineers from lots of different engineering companies and learn more about the projects they were working on.
What opportunities came about within your organisation or outside from being a finalist?
I work for Northrop Consulting Engineers and my team and the company were very supportive of me going for the award. Being a finalist in the awards helped me gain recognition within my organisation and opened doors for further opportunities. Being a CIBSE award finalist contributed to me winning an internal company award. 
What benefit did you gain from participating, personal or professional?  
Personally, the awards expanded my knowledge in sustainable building practice which I could then apply to my work and improve my design practice. Professionally, participating in the event helped me meet other engineers and make new connections in the industry.
What insight into the industry did you have gained in preparing your entry?
Preparing my entry gave me excellent insight into the large energy wastage that occurs in buildings, particularly schools, and the design measures that can be taken to improve this. It gave me a better understanding of the significance of building elements such as air tightness and building management systems in reducing the load on the HVAC, and therefore reducing energy consumption.  
Feeling inspired by Vanessa? Find out more about the awards and get started on your entry. 
The Awards recognise outstanding students, graduates and emerging professionals within the building services industry.