Returning for its third year, The Society of Light and Lighting (SLL) invites you to celebrate the art and science of light by participating in our social media initiative, uniting the lighting community in light and play.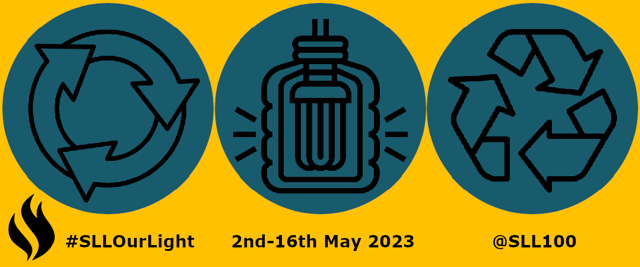 This year's #SLLOurLight campaign, organised by the Society of Light and Lighting, will be launched on Tuesday 2 May 2023 and run for two weeks, with the deadline for entries on the International Day of Light 2023 (Thursday 16 May).

#SLLOurLight is an Instagram campaign designed to provide an opportunity to celebrate all aspects of light and lighting. We encourage you to create your lighting effects, scenes and luminaires, or to take photographs of something relevant you might have stumbled across.

This year's theme is reuse, recycle and repurpose, and we would like to see pictures of your creations or experiences with light. This could be everyday objects repurposed in lighting, recycled materials used to create special effects or upcycled materials to create original luminaires or lamp shades.
Please post your pictures on Instagram between Tuesday 2 and Thursday 16 May 2023, and tag @SLL100 and include the #SLLOurLight hashtag when posting.

The Society would like to invite anyone and everyone to take part and get creative with everyday items they have at hand. The aim is to have fun, to be safe and to celebrate the lighting community together online.

If you have any questions or want more information about the Society of Light and Lighting, please visit www.sll.org.uk.
#SLLOurLight Terms & Conditions
#SLLOurLight is all about celebrating and having fun with light about the theme - reuse, repurpose and recycling.
Please avoid including recognisable images of people.
Do not include content that might be inappropriate or offensive.
The Society (SLL) reserves the right to untag @SLL100 from any images that it doesn't deem to be appropriate or fitting with the aims of #SLLOurLight.
The SLL will only consider posts that tag @SLL100 and #SLLOurLight.
The Society reserves the right to report any offensive imagery.
Your images must not infringe any copyright law or Instagram rules.
The Society reserves the right to repost images as posts and stories on the @SLL100 account.
Instagram is not involved in the running of the #SLLOurLight campaign 2023.
There is no financial incentive for people to take part in #SLLOurLight.
Please act responsibly and be safe whilst making and taking photos of your creations. The SLL cannot be held accountable for your safety.