As part of CIBSE's 125 Anniversary celebrations CIBSE President Kevin Mitchell has launched 5 challenges to encourage action, communication and collaboration, inspiring those who are new to our industry, as well as raising our profile more widely and inspiring people to join us from a wide range of backgrounds to ensure our industry reflects the communities we serve.

By celebrating our role models, our icons, our mentors, our own achievements and sharing our lessons learned, we can raise the profile of our work, celebrate our collective contribution and demonstrate what a difference you can make by working in our industry.
We are also celebrating the day-to-day work we do as Building Services Engineers, celebrating the everyday good practice which is the foundation of a healthy, safe, sustainable built environment and recognising the commitment of those working across our diverse and varied industry.
These challenges, set out below, should be the sparks rather than any hard and fast rule, igniting imagination, inspiration and action. 
One theme: Inspire the next generation
Two overarching goals: 
For us all to pay forward the support we have received to the next generation.
To learn and share how Building Services Engineers are key in the transition to net-zero and in fighting climate change
Five challenges: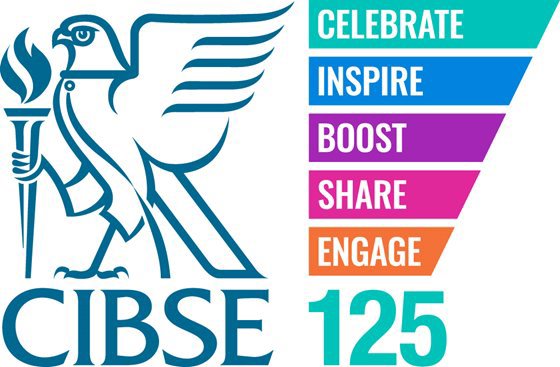 Celebrate those individuals, inventions, company, project, technique, technology, publication, group or mentor who has stood out to you as an icon, inspiring you to enter Building Services Engineering or at other points in your career. 

•    Celebrate your icon by posting on social media with #CIBSE125Icons
•    Share your role models – who influenced your decision to join the industry, or who has been your greatest support
Help support and boost the development of early career engineers ensuring they continue to develop, stay motivated and engaged and are supported through their learning journey.

You could: 
•    Set up exchange programmes
•    Become an early years mentor through the CIBSE Fellows network
•    Invite an early career engineer to your management meeting
•    Support and nominate an early career engineer to enter a competition – for example the Young Engineers Awards, the Ken Dale Travel Bursary
•    Set up a CIBSE Training and Development Scheme
•    Support an early career professional through their CIBSE membership application and into becoming a registered IEng, EngTech or CEng
•    Share how you are supporting early career engineers with the wider industry to exchange ideas and encourage other employers to adopt the same
•    Set up a sponsorship programme
•    Encourage an early careers professional to take a role in a CIBSE group, region or YEN
•    Encourage an early career professional to join YEN
•    Enter the Employer of the Year awards
•    As an employer, share your strategies for growing and supporting your early career employees
As Building Services Engineers our work is essential to ensuring buildings are safe, comfortable, healthy, sustainable places to live and work. 

Share your knowledge and experiences about how your work is driving the move to net zero and positively impacting climate change. 

• Challenge yourself to think more reflectively about your CPD
• Record your CPD in the CIBSE CPD Portal
• Share recent experiences, and lessons learned – what did you do and what impact did it have?
• Share projects or developments which have demonstrated real results in reducing energy, working sustainably, achieving net zero
• Submit a paper/presentation/project of case study for consideration for CIBSE Technical Symposium/Build2Perform/Building Performance Awards – sharing results and learning
Help to inspire young people to consider a career in engineering or Building Services Engineering. 

We want to raise the profile of Building Services Engineering as a career option for those at secondary school through colleges and universities, engaging them with engineering early and showing them what opportunities a career within our industry can offer, igniting that early spark of interest and excitement in an industry which has so much to offer, and so many routes and specialisms. 

Let's start the conversation early and show them how they can make a difference. Here's what you could do: 
•    Present to secondary schools students about engineering
•    Become a STEM ambassador
•    Present to a 6th form or Higher Education college, encourage discussion around Building Services Engineering, including the apprentice route
•    Visit a university/college and talk about Building Services Engineering
•    Talk to someone you know about why you think they would make a good Building Services Engineer
•    Hold a company STEM Day about engineering
•    Present at a local school's career evening
•    Take on a work experience student
•    Sponsor a project at a local tertiary education establishment
•    Become a CIBSE End Point Assessor
•    Target early years engineers themes for your CIBSE region, group or society event
Everyone has their own story of how they came to Building Services Engineering, whether through University, Apprenticeship or other route. Each journey is unique to the individual and will resonate with someone, sparking their interest and imagination. 

Each story is important and relevant.

By sharing your story about how and why you became a Building Services Engineer, what inspires and engages you, you could sow that seed in someone else so that they can see their own potential as an engineer. 

Be that person's role model – shout about your journey and experience and let that inspire even just one person to think 'that could be me'.

• Create a blog, video or podcast which can be posted to CIBSE social media/CIBSE blog, outlining your journey to Building Services Engineering, how you make a difference, and what inspires you.
• Share your stories on social media
• Choose a publication, CIBSE Journal article, video or case study, or other material, to share on social media, outlining why it is particularly interesting or relevant 
• Complete a 'why I became a Building Services Engineer' on your LinkedIn profile 
• Share your technical case studies
Get involved, share your experience, rise to the #CIBSE125Challenge

Share your #CIBSE125Challenge