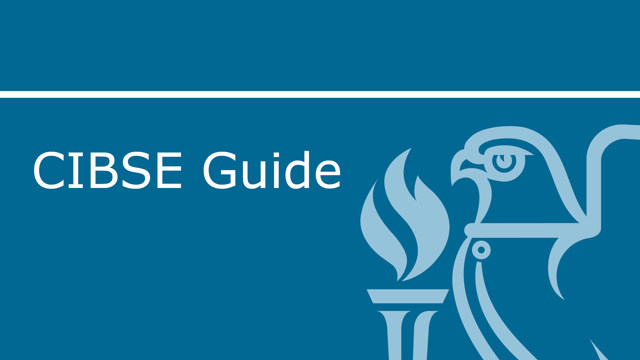 Guide B provides guidance on the practical design of heating, ventilation and air conditioning systems and is divided into six sections which are published separately:
The full set is available at a discounted price here: Guide B (full set)
Guide B1: Heating deals with the selection, design, commissioning, operation and management of most types of heating systems in buildings. It deals specifically with non-domestic buildings, though much of the contents will apply to domestic communal heating. Such systems provide space (including ventilation) heating and/or hot water services and installations such as swimming pools. Virtually every building (outside the tropics), contains a heating system. In most cases its primary purpose is to produce acceptable levels of thermal comfort – paramount for the health and wellbeing of building occupants and provide domestic hot water – or to protect the building fabric or its contents.
Topics covered include:
Strategic design decisions

Purposes of heating systems
External design conditions
Site related issues
Interaction with building design, fabric, services and facilities
Occupancy
UK regulatory requirements
Energy performance of building regulations outside the UK
Environmental performance targets
Economic considerations
Future requirements

Design criteria

Internal design conditions
Design criteria for human comfort and well being
Design criteria for other than human comfort
Environmental performance target
Part L Building Regulations 2013 (England)
Energy and CO2 emissions benchmarks for existing buildings
NOx, SOx, particulates and greenhouse gases other than CO2
Environmental assessment schemes

Choice of system

General
System classification
Choice of centralised or decentralised systems
Particular applications
Choice of fuel or energy source
Choice of heat generator
Choice of heat emitters
Choice of distribution medium
Choice of domestic hot water system

Heating load calculations and sizing methodology

General
Calculation principles
Room design heating load
Mechanical ventilation heat loss
Domestic hot water
Distribution losses
Heat generator peak heating load
Design margins
Choice of number and duties of heat generators

Energy sources

General
Factors affecting choice of energy source
Gaseous fuels
Liquid fuels
Solid fuels
Electricity
Solar source
Handling and storage of fuels and regulations

Heat generators

Choice of heat source
Boilers
Gas-fired boilers
Oil-fired boilers
Solid fuel boilers (general)
Solid fuel boilers (biomass)
Steam boilers
Combustion of fuels
Heat pumps
Combined heat and power
Solar water heating collectors
Chimneys and flues
Corrosion in boilers, flues and chimneys

Hydronic systems

General
Choice of flow and return water temperatures
General arrangement of LTHW systems
Secondary circuit(s)
Primary circuit
Interface between primary and secondary circuits
General arrangement of MTHW and HTHW systems
Integration of renewable/low carbon heat generators
Heat output rate of heat emitters

Steam systems

General
System design
Distribution
Condensate
Guidance and standards

Air systems

General
Heat sources
Distribution
Heating combined with air conditioning
Controls
Other standards and guidance

Unitary systems

General
Indirect gas and oilfired heaters
Direct electric heaters
Electric underfloor heating
Standalone heat pumps
Radiant systems characteristics
Convective heating characteristics
Controls

Domestic hot water systems

General
Classification of DHW systems
Regulations relevant to DHW systems
Generic dhw systems
Choice of dhw system
DHW demand and energy consumption
Solar hot water heating
Sizing of dhw systems

Connecting to heat networks

Existing UK heat network performance
Key design points for heat networks
Networkconsumer interface
Implications for design of building heating system

Operation, maintenance and energy management

'Commissionability' and 'maintainability'Life cycle issues
Construction (Design and Management) Regulations (UK)
Operation and maintenance manuals
Log books
Energy management, monitoring and targeting

Hydronic system design
Corrigenda and reprints
November 2016: makes corrections to pages: 1-27, 1-30, 1-71, 1-89, 1-90, 1-99, 1-100, 1-106, 1-119 and 1-129

May 2018:

makes corrections to pages: 1-26, 1-37, 1-48, 1-49, 1-51, 1-74, 1-76, 1-153 and 1-163

June 2019:

makes amendments to page 1-147
Acknowledgements:
Guide B1 Steering Committee: Mike Campbell (Chair), Paul Barnard, Robin Curtis, Richard Davies, Tony Day, David Hughes, Simon Mitchell, David Palmer, Chris Parsloe, Martin Ratcliffe, Martin Wilkinson, Paul Woods
Referees: Richard Brailsford, Peter Clackett, Will Pitt