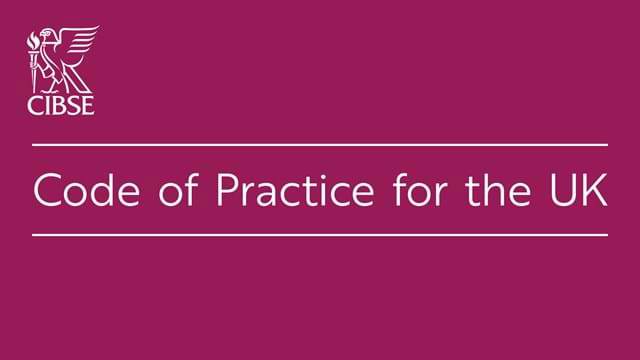 This Code of Practice has been produced as a joint project between the Chartered Institution of Building Services Engineers (CIBSE), the Heat Pump Association (HPA) and the Ground Source Heat Pump Association (GSHPA). The work has been supported by the UK Department for Energy and Climate Change (DECC).

Surface water source heat pumps (SWSHPs) are an underused technology in the UK. Harnessing renewable energy from the sea, rivers, canals and lakes represents a huge opportunity to provide low carbon heating/cooling to buildings. However, if SWSHPs are to form a significant part of our future low carbon energy infrastructure they need to be designed, built, operated and maintained to a high quality to deliver customer satisfaction. This Code of Practice has been produced to assist in achieving that aim by raising standards right across the supply chain and to stimulate adoption of the technology.

Setting minimum requirements (and recommending best practice) should provide greater confidence for specifiers and developers. This Code of Practice can also be included in the tendering/contracting process to specify minimum requirements for a project. The adoption of this Code of Practice by developers could ultimately be used to support marketing by providing assurance to customers and property purchasers that their SWSHP scheme has followed a set of design, installation and commissioning standards. This Code of Practice should therefore have a significant effect on the SWSHP market by boosting confidence in the technology. 

NOTE: A short leaflet explaining how the Code can be used in this way by building owners and developers can be downloaded here
The publication was launched in April 2016 - details of the event and copies of the presentations can be downloaded from the GSHPA website.

Linked titles
CIBSE has so far published two other Codes of Practice in this area:
CP1: Heat Networks: Code of Practice for the UK (here) and supported by 'A Guide for Building Owners and Developers' (here)
CP3: Open-loop groundwater source heat pumps: CoP for the UK - Harnessing energy from water in the ground for heating and cooling (here) .

Surface Water Source Heat Pumps Training
CIBSE Training offer a variety of courses supporting the code of practice.

The courses available are:
Surface Water Source Heat Pump Systems: An introduction 
An introduction (day one) is set up so that both business people and engineers can gain knowledge appropriate to their level.

Surface Water Source Heat Pump Systems: Implementing
(day two) is more technical with an engineering assessment and technical/business case study.
CIBSE Training recommends attending both days of the course, each day is booked separately.
For more information contact the training team at [email protected] or visit the course page
Contents
Part A – How to use this Code
A1 Introduction
A2 The scope and audience of the Code of Practice
A3 The structure of the Code of Practice
Part B – SWSHPs: challenges and opportunities
B1 The heat pump
B2 Water sources 
B3 Open and closed loop systems 
B4 Challenges and opportunities of different applications
Part C – The requirements

1. Preparation and briefing
Objective 1.1: To commission the project in accordance with the Code of Practice
Objective 1.2: To develop the specification/project brief
2. Feasibility
Objective 2.1: To assess environmental impacts and benefits
Objective 2.2: To identify and quantify the most suitable surface water source and the best method of energy exchange
Objective 2.3: To determine what permissions are necessary to access the water
Objective 2.4: To determine heat pump location and water abstraction and discharge (or closed loop heat exchanger) details, including cost estimates
Objective 2.5: To accurately estimate peak and seasonal heating and cooling demands
Objective 2.6: To agree suitable load-side operating flow rates and control strategies
Objective 2.7: To select the most appropriate heat pump system
Objective 2.8: To assess operation and maintenance needs and costs
Objective 2.9: To conduct a financial analysis in order to comprehensively evaluate the installation options
Objective 2.10: To analyse risks and carry out a sensitivity analysis
3. Design
Objective 3.1: To design for safety in construction, operation and maintenance
Objective 3.2: To evaluate environmental impacts and benefits
Objective 3.3: To apply for the permissions necessary to access the water
Objective 3.4: To design a reliable installation with a long life and low maintenance requirements
Objective 3.5: To accurately determine peak heating and cooling demands and seasonal energy consumption profiles
Objective 3.6: To specify the most appropriate heat pump system
Objective 3.7: To design an efficient load-side hydraulic system interface 
Objective 3.8: To design a data collection system to accurately record performance
Objective 3.9: To update and refine the risk register and sensitivity analysis
Objective 3.10: To confirm a cost statement for the main system elements of the project
4. Construction and installation
Objective 4.1: To reduce adverse environmental impacts of construction
Objective 4.2: To reduce health and safety risks
Objective 4.3: To achieve a high quality construction in accordance with the design and to deliver a reliable long life asset
Objective 4.4: To pressure test, flush clean, purge and fill all pipework and plant
5. Commissioning
Objective 5.1: To follow a structured commissioning management plan
Objective 5.2: To commission the source side of the heat pump installation
Objective 5.3: To commission the heat pump and immediate supply-side equipment
Objective 5.4: To commission and calibrate the performance data collection system 
Objective 5.5: To carry out a formal handover and provide appropriate information to the operations team
6. Operation and maintenance
Objective 6.1: To reduce health and safety risks to staff, customers and the general public
Objective 6.2: To minimise environmental impacts of operation and maintenance
Objective 6.3: To deliver a cost-effective efficient maintenance schedule that maximises system efficiency, reliability and asset life
Objective 6.4: To provide appropriate monitoring and reporting, including reliability and CO2 emissions
7. Decommissioning
Objective 7.1: To decommission the heat pump
Objective 7.2: To decommission the source side
Appendices
A. Glossary of terms
B. Key legislation
C. Useful contacts
D. Calculating system efficiency
E. Navigating the way: DECC WSHP customer journey
Case studies
Drammen, Fjenvarme, AS district Heating network, Norway
Kingston Heights, Surrey, UK
Country estate, Horsham, West Sussex, UK
Baltimore lifeboat station, Ireland
Plas Newydd, Llandairpwll, Anglesey, UK
Steering Group
Chairs: Phil Jones (Chair, CIBSE CHP & District Heating Group); Tony Bowen (Immediate Past President, Heat Pump Association (HPA)); Simon Lomax (Chair, Ground Source Heat Pump Association (GSHPA))
Authors: Prepared by a consortium led by Themba Technology Ltd, under contract to CIBSE and in association with HPA and GSHPA. 

Lead authors: Nic Wincott (NeoEnergy) & Jen Billings (GSHPA)

Steering Committee members: Anthony Coumidis (McBains Cooper), Chris Davidson Genius Energy Lab), Daniel Foulds (DECC), Darren Leftley (Canal and River Trust), David Matthews (Themba Technology Ltd), Dave Pearson (Star Refrigeration), Duncan Nicholson (Arup), Ed Palmer (CIBSE), Graham Hazell (HPA), Greg Grebrail (DECC); Guy Boulby (DECC), Huw Blackwell (Islington Council), John Findlay (Carbon Zero Consulting), Kevin Byrne (Consultant), Mike Crane (GI Energy), Mike Spenser-Morris (Zero Carbon Partnership)), Paul Southall (National Trust), Reginald Brown (BSRIA), Richard Venga (Mitsubishi Electric), Robert Jeans (RNLI), Sasha Krstanovic (AECOM) & Stephen Oates (Environment Agency)

Other acknowledgements: Further comments were received from corresponding members, including:
Paul Adams (Linden Environment), Graham Allardice (DECC), Kalpana Balakrishnam (Natural Resources Wales), Bean Beanland (ISO Energy), Chris Dunham (Carbon Descent), Paul Eslinger (The Wessex Environmental Partnership / Angling Trust), Ross Hodson (Marine Management Organisation), Paul Millard (Water Regulations Advisory Scheme), Mark Owen (Angling Trust) & Jeffrey Spitler (University of Oklahoma)

Consultation
The Code of Practice was made available for public consultation between 22 June and 25 July 2015. 13 responses were received using the official consultation response form with a further seven informal responses received by email.Further details of the consultation process can be found at www.cibse.org/CP2consultation