Aluwaine Manyonga has been awarded this year's bursary for his project, Assessing the impact of using off grid solar powered DC LED lighting systems on improving reliability and access to lighting in Southern Africa's rural buildings (case study of schools and residential buildings).
Aluwaine's research aims to help assess the feasibility of implementing solar DC LED lighting systems in educational, health, residential and commercial buildings within rural, often off-grid communities in Southern Africa.
The research will concentrate on countries in the Southern African Development Community (SADC), specifically focusing on Zambia, Malawi, the Democratic Republic of Congo and Tanzania.
Aluwaine chose to centre his research in Southern Africa due to the significant number of countries that have restricted access to electricity, with rural areas being the most impacted. The selection was based on World Bank data on access to electricity in rural areas of Sub-Saharan Africa.
Within his bursary application, Aluwaine provided a breakdown of how the funds would be used to further his research. Selection of the buildings and implementation of the proposed lighting system on will take two weeks. This will involve selecting one school and one residential building, procuring the equipment required and installing the solar DC LED lighting system, with assessment, comparisons and technical evaluation taking a further two weeks.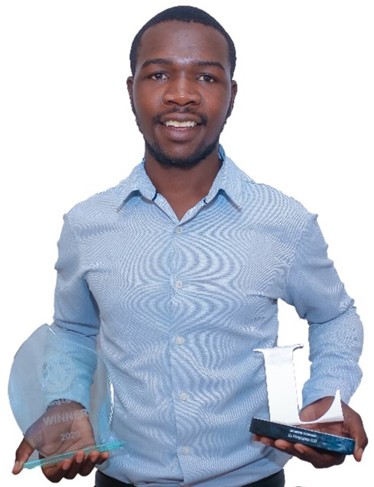 Aluwaine was previously named the Society of Light and Lighting (SLL) Young Lighter 2020, for his project, Offgrid solar lighting and chigubhu lantern, Africa's education system game-changer. This research is a continuation of that initial award winning project.
CIBSE established the Ken Dale Travel Bursary to commemorate Ken Dale's contribution to the Institution and the building services profession.  The bursary allows the winner to travel and research areas of particular interest and application to the the Institution.
The award is the subject of an open competition among CIBSE members. Candidates are shortlisted based on their proposals and the final selection is made following presentations by the short-listed candidates at the interview stage.
For more information about the CIBSE Ken Dale Travel Bursary, visit https://www.cibse.org/about-cibse/awards-and-medals/ken-dale-travel-bursary
You can find out more about the SLL Young Lighter competition via https://www.cibse.org/get-involved/societies/society-of-light-and-lighting-sll/sll-events/sll-young-lighter