Kevin Mitchell, CIBSE President, Ruth Carter, CEO, and Dr Hywel Davies, Chief Technical Officer visit CIBSE Hong Kong. As part of their visit, they attended the CIBSE Hong Kong regional AGM, welcoming in the new regional chair, Gary Chiang. With over 3000 members, Hong Kong is CIBSE's largest international region.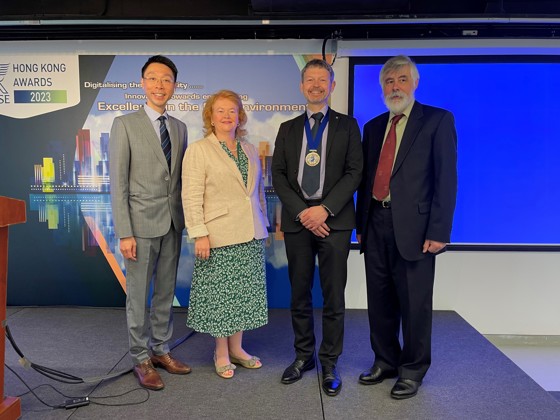 Left to right: Gary Chiang, CIBSE Hong Kong Chair; Ruth Carter, CIBSE CEO; Kevin Mitchell, CIBSE President; and Dr Hywel Davies, CIBSE Chief Technical Officer
The outgoing chair, T C Chan handed over the reins to Gary during the CIBSE Hong Kong AGM on 07 March 2023. Kevin Mitchell, CIBSE President delivered a speech to the audience, expressing how pleased he was to be able to visit the region in person.
Kevin acknowledged the success of the CIBSE Hong Kong regional committee, celebrating and sharing his gratitude for the support that he has received from CIBSE's global community, as President and throughout his career.
"There were those who encouraged me to investigate the links between the indoor environment, health and productivity. Later on, of course, our own Peter Wong who was CIBSE President in my first year on the CIBSE Board and encouraged me on my CIBSE journey."
Kevin reflected on the #CIBSE125Challenges, which he set at the start of his presidency in celebration of CIBSE's 125 anniversary.
"It is wonderful to see the inspiration, challenge and hunger that CIBSE members in Hong Kong have to drive and change the agenda. And the timing for our visit couldn't be more appropriate with the launch of the CIBSE Hong Kong Awards happening tomorrow."
Acknowledging the global skills gap, Kevin highlighted that this is a challenge shared by all of CIBSE's regions. It has never been more important to engage with young engineers, raising awareness around the incredible difference that building services engineers make to the decarbonisation route towards net zero. The CIBSE community is pivotal to solving the challenges that we face.
In considering the role that CIBSE members play in decarbonisation, building safety, building performance, Kevin added, "I am delighted to see the work that CIBSE and its members around the globe are doing to drive fundamental changes and developments in these areas".
Following Kevin's address, Ruth reflected on some of CIBSE's successes in 2022, outlining some key factors.
"We were one of only two of the top 10 professional engineering institutions who saw membership growth in 2022. Interestingly, we are now 29% of our members in now non-UK based and this is increasing.
Financially we were also very strong. We saw over 20% increase in revenue from 2021 with just under 90% of that growth coming from our commercial arm, CIBSE Services who bucked the industry trend by having an exceptional year. This increase in income meant that we were able to significantly increase our membership engagement activities across the board. It also meant we were able, yet again, to have a record year in terms of guidance and knowledge delivery."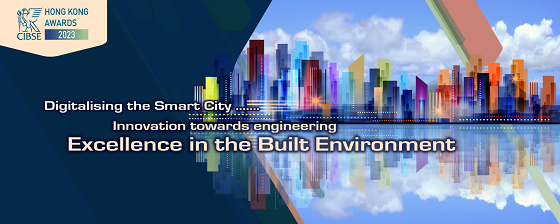 The CIBSE Hong Kong AGM also included the relaunch of the region's annual awards, which are now open for entry.
The 2023 awards celebrate innovation towards engineering excellence in the built environment and full details are available via http://cibsehka.org.hk/ 
Visit the CIBSE Hong Kong website via https://cibse.org.hk/