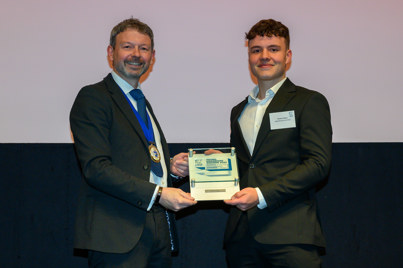 I'm Harvey Hudson, Building Services Apprentice at Vital Energi, and I recently won the level 3-4 CIBSE Apprentice of the Year award.
Why did you enter the awards?
I entered the award after being nominated by assessor at the City of Liverpool College where I study for my apprenticeship. It's a great feeling to be put forward for an award like this from someone who is assessing my work.
What new and exciting projects are you working on?
I am currently working on site at the New Cross Solar Farm in Wolverhampton. The 15,000 panels will produce around 288 days of self-generated renewable energy which will power the nearby New Cross Hospital site and save 1,450 tonnes of carbon each year. The 40 acres of clay-capped landfill site has been a challenge due to the methane and the small distance from the top of the soil to the clay.
One of my responsibilities on the site is marking and testing the piles to ensure that the clay cap and gas pipes don't get damaged. Methane will be released if these get damaged. I use the SEM5000 to gather readings once the pile has been driven into the ground.
What exciting opportunities have you received since winning the YEAs?
I have been invited to speak on an online panel discussion called The CIBSE Exchange, where I'll be delivering a short presentation about my experience and answering questions on a Q&A panel.
What inspires you as an early career engineer? Is it problem-solving? The impact that you can have on the world around you? Getting to work on exciting projects? Learning from other engineers?
I am inspired by the positive impact this industry has on the world around me. By working for a company that provides strategies to decarbonise the generation, distribution, and usage of energy, I know that every project I work on is helping work towards the UK's net zero target.  
How do you think your experience in entering and being shortlisted for the YEAs has help to boost your confidence and development as an early career engineer?
Winning the award has significantly boosted my confidence and development. Being 17 and at the start of my career, competing with older, more experienced level 4 candidates, made it feel so surreal when I found out I won!
What drew you to a career in engineering?
Several of my family members are in the engineering industry, however my Dad had the biggest impact on inspiring me to go into the world of engineering. He introduced me to engineering from a young age and I gradually got more and more passionate about it.