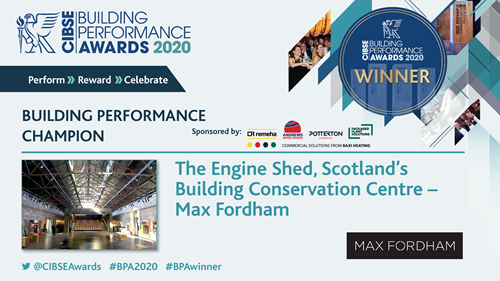 Building Performance Champion

Awarded to the individual, team or organisation that has made the most outstanding contribution and commitment to achieving improvement in all aspects of building performance. Building Performance Champions demonstrate leadership and commitment at all levels, including the use of appropriate technology and processes, and the application of best practice through training and development.
 
Winner: The Engine Shed, Scotland's Building Conservation Centre - Max Fordham
 
The Engine Shed, entered by Max Fordham, was crowned overall Building Performance Champion, having triumphed in the Project of the Year (POY) Public category. Max Fordham also submitted Residential Project of the Year Agar Grove, comprising 38 social-rented homes, which is one of the largest Passivhaus developments in the UK, and the first to make use of communal MVHR.
 
The Engine Shed is Scotland's new building conservation centre, and is housed in a redundant Ministry of Defence train shed with new-build wings. While the judges were impressed by Agar Grove's excellent M&E and architectural design, plus pre- and post-occupancy evaluation, Max Fordham was named Building Performance Champion primarily for its work on The Engine Shed.
 
Nigel Clark, technical director at Hilson Moran, said the overall quality and content of the entry tipped the balance for him. It not only showed 'extremely thorough attention to detail and a commitment to a two-year aftercare period', but it also had a strong 'people focus', said Clark, who described the project's sustainability matrix, soft landings, building user guide and quarterly reporting as 'exemplar'.
 
'Given the nature of the project, it will potentially impact many other projects, and should be a focus for learning and future training of all those involved in construction,' he added.
 
Another judge, Darren Coppins, agreed that The Engine Shed showed the value of a project team being part of the aftercare.  The chartered engineer and director of Built Physics noted that Max Fordham's team had reduced building base loads significantly, refined comfort and ensured the building was operating at its optimum.
 
'It sets a shining example of project delivery that doesn't need to end at handover,' he said.
 
Max Fordham's long-term view of development and multifaceted approach to sustainability – encompassing materials, energy and human aspects – impressed judge Craig Robertson, associate and head of sustainability at Allford Hall Monaghan Morris architects.
 
He said the firm had 'taken an existing building, rejuvenated it and created a building that will last and adapt over time'.
 
Embodied and operational energy were considered together, he noted, and the design, construction and commissioning processes were clearly reported and worked through.