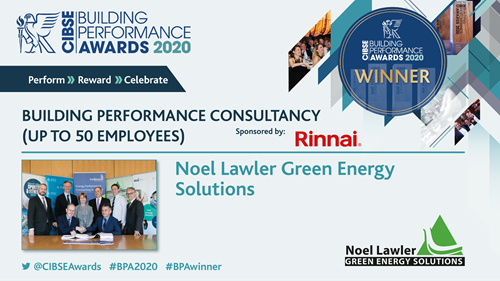 Building Performance Consultancy (up to 50 employees)

Awarded to the consultancy that has demonstrated an outstanding contribution to the delivery of buildings that have high levels of measured building performance and user satisfaction throughout their operating life.

Winner: Noel Lawler Green Energy Solutions (NLGES)

Delivering energy from chicken manure was just one of the innovative projects that persuaded the judges to present Noel Lawler Green Energy Solutions (NLGES) with this award.
The Ireland-based consultancy worked with a biomass boiler specialist to convert heat from poultry droppings to electricity, with excess heat used to warm the hen houses. The result? Reduced energy consumption, better bird welfare, less pollution and an improved business case for farmers.
NLGES's awards submission was praised by the judges for the clarity of its answers and for the inclusion of bespoke solutions with quantifiable outcomes on a variety of projects. These included:
Energy performance contracts with Dublin City Council: through improved monitoring and reporting of planned preventative maintenance, NLGES has helped the authority improve its energy performance and reduce costs associated with exceptional maintenance.
Energy modelling and value engineering support, Center Parcs, Longford: development of the sub-tropical swimming pool included a change in structure to include a cross-laminated timber deck with glued laminated beams and ethylene tetrafluoroethylene (EFT) roof and fabric duct. This use of renewable materials not only resulted in energy efficiency benefits, but also avoided cold bridging and reduced the steelwork used in construction.
Abbey Quarter development, Kilkenny: NLGES has been involved in the repurposing of the original brewhouse building. The maturation tanks are being made into landscape features, to maintain the historic context of the site, and redundant stainless-steel electrical switchgear is also being re-used to create an internal focal point.
The judges were also impressed by NLGES inclusion of biophilic elements in its head office in Kilkenny, and by its investment in staff training – particularly its aim of 'developing our people to understand and be empathetic to our clients' pains'.

Shorlist
Banyards
Box Twenty Consulting Engineers
Energy Efficiency Consultancy
FairHeat
S I Sealy & Associates