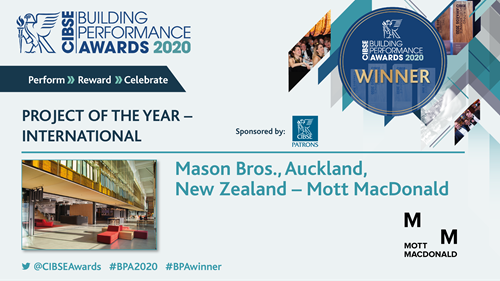 Project of the Year – International

Awarded to the new build of an international building that most effectively demonstrates high levels of user satisfaction and comfort while delivering outstanding measured building performance.
 
Winner: Mason Bros, Auckland, New Zealand – Mott MacDonald
 
The Mason Bros project demonstrated world leadership in sustainable design by using existing technology and methods in the best way possible, according to the judges.
 
'The Mason Bros project does not have any revolutionary technology: no 'world first' innovation. From the outside, there were no grand objectives (or the corresponding budget) to demonstrate world leadership in sustainable design – yet this is what was achieved.'
 
The BPA judges agreed with Mott MacDonald's own assessment that it had achieved great results by applying existing technology and methods well, rather than by reinventing the wheel.
 
Mason Bros – a 1920s former warehouse beginning its second life as a key part of Auckland's Wynyard Quarter Innovation Precinct – incorporates passive design features, including exposed thermal mass, natural ventilation, large south-light glazing, and a balanced window-to-wall ratio to maximise daylight while minimising fabric heat gains.
 
The building's carbon emissions are 9.5 kgCO2/m2, and its energy design target and performance over the first two years of operation were:
 
Design brief: minimum 4.5-star NabersNZ base building and maximum 80kWh/m2 (a 25% improvement of typical practice)
1st year: 5-star NabersNZ and 57kWh/m2 (30% improvement)
Current operation: 5.5star NabersNZ and 48kWh/m2 (highest-rated building in Auckland and a 40% improvement).
 
The building benefited from an 18-month tuning and commissioning programme after practical completion, to ensure comfort and energy consumption aligned with the design intent. Mott MacDonald also based representatives there during this period, to help monitor the building's performance and rectify any issues quickly.
 
Occupants are also benefiting. A Building Use Study found that productivity improved by 8.5% on average across tenants – compared with other standard office buildings own by Precinct Properties – absenteeism was reduced by 20-25%, and the internal environment was considered fresher.
 
Property management reports that Mason Bros generates the least number of thermal comfort complaints of any building (over 200,000m2) within its portfolio, and that it is the most energy efficient, too.
 
Project team:
Building services consultant: Mott MacDonald
Building owner, developer and facilities manager: Precinct Properties
Building occupier: Warren and Mahoney; Mott MacDonald; Ateed
Project manager: BECA
Quantity surveyor: Rider Levett Bucknall
Architect and interior designer: Warren and Mahoney
Mechanical/electrical engineering contractor: Aquaheat/Allendale
Main contractor: NZ Strong
Independent commissioning agent: Pacific Commissioning and Coordination

Shortlist
AUT - Mana Hauora (MH) Building, Auckland, New Zealand - Beca
Hitchcock Center for the Environment, Amherst, USA - BuroHappold Engineering
The Sweco Building, Bergen, Norway - Sweco Norway